About Senate
How does it work?
The University of Oregon Senate is a partner in shared governance at the UO. We collaborate with the trustees, the president, the administration and various university committees to further the academic mission of the UO. The Senate derives its authority from the Statutory Faculty, by virtue of the University of Oregon Constitution, and expresses the faculty's will on academic matters through legislation and policy proposals. Though its power derives from the faculty, the Senate draws its members from and represents the entire university community, including faculty, students, staff, officers of administration, officers of research and librarians. The Senate uses a third type of motions, Resolutions, to express its opinion on subjects that are not directly within its purview, but are of interest to the body, particularly on those issues which have the potential to impact the broader UO community.
Governance
The UO Senate, with the help of various committees, primarily oversees the evolving landscape of the academic mission of the university. This includes, but is not limited to, items such as grading policies, new academic degree programs, emergency planning in case of academic disruption, and student experience surveys (formerly course evaluations). Our governing documents, found below, provide the structure and authority by which we act and express our opinions on a wide range of issues affecting the campus community.
Authority Icon
Details which aspects of governance are overseen by the UO Board of Trustees and how they intersect with the UO Senate.
Bylaws Icon
Rules and processes by which the UO Senate operates, including the three types of motions that constitute official senate action.
Organizations
The UO Senate oversees  or collaborates with a number of regular committees, limited duration task forces and groups to assist with a wide range of projects and tasks associated with furthering the academic mission of the University. Committee responsibilities cover items such as: new academic degree programs, changes in grading policies, and the approval of new course proposals to broaden or enhance curricular offerings
A list of committees overseen directly by the Senate can be found on our Committees page. Here you will find information on the charge and responsibilities of individual committees, membership criteria, term lengths, reports and documents detailing prior activities and initiatives, and more.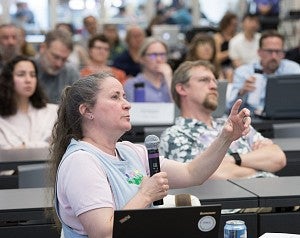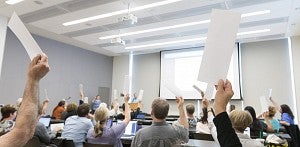 Motions
All members of the University Senate, members of the Statutory Faculty as defined in the University of Oregon Constitution Section 2.2 and Emeriti Statutory Faculty have the right to introduce motions. Motions shall be legislation, policy proposals, or resolutions as defined in the UO Constitution Section 7.2. Legislation shall be limited to issues that relate to the academic mission of the University. Policy proposals shall be restricted to new or revised University policies that are or will be posted on the University of Oregon Policy Library website. Resolutions are unrestricted in their scope.
Visit this page for more information on motions and their process.